To Have & To Hold
21 Jan 2014
Wilmington NC Wedding Resources
Whether you are just starting to plan your big wedding day (or your elopement), or you're a wedding aficionado who accumulates bridal magazines, Wilmington is here to help plan your ultimate wedding from start to finish. Here is everything you need to help plan and make your big day absolutely perfect. Of course we realize there are many more great wedding vendors that did not make our list, but there is always next year.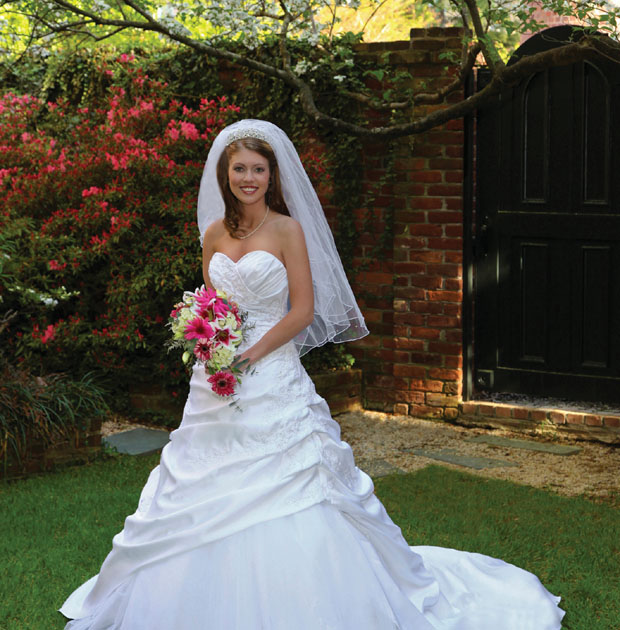 ATTIRE
A Carolina Wedding
910-762-3312
Beautiful Brides
910-395-0052
Camille's Closet
910-471-4212
Cape Fear Formal Wear
910-762-8206
Fountaine Bridals
910-794-9959
Gentlemen's Corner*
For classy Southern style, Gentlemen's Corner is your mans boutique. With top designer brands such as Peter Millar, Robert Talbott, and Coast, they've got you covered on everything from casual to dressy wear to ensure that your date looks as stylish as you do. 910-509-3838, thegcorner.com
Nikki Couture Bridal
910-679-8059
The Bridal Boutique
910-794-7070
The Wedding Dress Shoppe*
The Wedding Dress Shoppe is the bridal boutique in Wilmington to go to when you're looking for "The Dress". With designers such as Coco Anais, James Clifford, Justin Alexander, and Anjolique, you are guaranteed individualized customer service and peerless selection. 910-392-0818, theweddingdressshoppe.com
BEAUTY & SPAS
Bangz Salon & Day Spa
910-452-4247
Blue Ginger Spa
910-395-9950
Blush Haus of Beaute
910-256-0448
Brush Salon
910-392-2220
brushsalon-wilmington.com
Glo MedSpa*
Glo MedSpa and beauty boutique is one part medical spa and one part bridal beauty boutique. They can offer you a specialized facial to get you glowing to enhance your natural beauty. 910-256-2690, glomedspa.com
Harbour Club Day Spa & Salon
910-256-5020
Ki Spa
910-509-0410
Salon Beyond Basics Day Spa*
Planning for your wedding is stressful enough and looking your best on your wedding day shouldn't be another stress. The team at Salon Beyond Basics offers high-quality hair care products and spa services and can create any look to help you look as beautiful as you feel. 910-452-0072, salonbeyondbasics.com
Tanglez Salon
910-392-8111
VanDavis Aveda Salon and Day Spa*
VanDavis Aveda is an upscale salon featuring the best in hair care as well as makeup and spa services. They offer a variety of special Bridal packages at different price points. Full-body, relaxing spa treatments for brides and the wedding party is available. 910-256-0213, vandavisaveda.com
CAKES & SWEETS
Alison's Cakery
910-431-2257
Apple Annie's
910-256-6585; 910-799-9023
Hot Pink Cake Stand
910-343-4727
Imaginary Cakes
910-795-0920
One Belle Bakery
910-769-3280
Sweet n Savory Cafe
910-256-0115
Uprising Bakery
910-399-1313
CATERING
A Thyme Savor
910-262-2962
Bon Appetit
910-796-0520
Coastal Catering and Events
910-845-2516
Jerry Rouse Catering
910-256-8847
Middle of the Island Catering Co.
910-256-4273
Milner's Cafe & Catering
910-350-8899
Tasteful Creations
910-398-4858
CEREMONY & RECEPTION VENUES
101 Stone Chimney Place
910-754-7050
128 South Front Street
910-399-1709
Airlie Gardens
910-798-7700
Bald Head Island Shoals Club*
Whether you want to get married barefoot on the beach or under a gazebo overlooking the Atlantic, The Shoals Club has the perfect wedding and reception venue for you. Offering couples breathtaking views and a classic beach club setting for both ceremonies and receptions. Seating is easily arranged for ceremonies of any size. 910-454-4888, shoalsclub.com
Bellamy Mansion
910-251-3700
Brooklyn Arts Center
910-538-2939
Cape Fear Riverboats
910-343-1611
City Club de Rosset
910-343-1880
Graystone Inn
910-763-2000
Lumina Hall
910-202-0701
910-763-4054
Watermark Marina
910-794-5259
Wilmington Convention Center
910-251-5101
Wilmington Tea Room
910-343-1832
The Atrium
910-520-7956
The Balcony on Dock
910-342-0273
The River Room
910-251-8902
The Riverwalk Landing
910-343-0408
The Terraces on Sir Tyler
910-473-5550
The Upper Room 1871
910-538-9885
EVENT PLANNERS
A Boxed Event
910-319-3272
Kickstand Events
910-241-0399
Port City Event Planners
910-520-2947
Salt Harbor Designs 910-524-0081
Weddings By The Sea
910-367-0159
EVENT RENTALS
Etc Party Rentals
910-399-3694
Harborside Event Rentals
910-799-8570
L&L Tent and Party Rentals
910-791-1295
Sweetwater Bamboo Arbors
910-599-8258
FINE JEWELRY
Albert F. Rhodes Jewelry
910-313-6935
Kingoff's Jewelry*
Providing fine jewelry and great service to southeastern North Carolina since 1919, Kingoffsoffers the area's best selection of professionally hand-selected jewelry and gifts. Excellent customer service as well as an amazing selection of unique jewelry, perfect for that special day. 910-762-5219, kingoffs.com
Perry's Emporium*
One of the largest jewelry stores in NC, it has become a favorite place for couples to find the perfect wedding jewelry. Whether you are looking for an engagement ring, wedding band, or custom design services, you can expect top quality and craftsmanship that has been part of the family business for nearly 30 years. 910-392-6721, perrysemporium.com
Reeds Jewelers
910-799-6810, 910-256-2962
Spectrum Art & Jewelry*
One of the most award-winning jewelry design studios in the Coastal Carolinas. With a full-service studio on-site, Spectrum Art & Jewelry is known for outstanding custom jewelry design, offering irresistible jewelry, diamonds, gemstones, original art, and memorable gifts. From concept to completion their team of designers can make your jewelry dreams a reality. 910-256-2323, spectrumartandjewelry.com
FLORISTS
A Beautiful Event
910-327-0877
Bella Floral
910-836-0942
Bloomers Floral Designs
910-815-8585
Fiore Fine Flowers
910-791-6770
Julia's Florist
910-395-1868
Kim Fisher Designs
910-279-5530
Verzaal's Florist & Events*
Verzaal's Florist specializes in creating vibrant floral arrangements by combining fresh flowers, textures and colors to produce a wedding that is a harmonious blend of imagination and tradition. They provide services for every type of wedding and any other special celebration. 910-791-1756, verzaalsflorist.com
INVITATIONS & MORE
Mindy and Angies Fine Paper
910-256-2788
Occasions Just Write
910-343-9033
Protocol
910-796-9595
The Fisherman's Wife
910-256-5505
PHOTOGRAPHERS
Baca Photography
910-297-6526
Bella Rose Photography
910-547-0501
Chris Zachary Photography
910-200-7737
Dick Parrot Photography
910-686-4298
Harry Taylor
910-792-0098
Indigo Silver Studio
910-399-6790
Leslie Koehn Photography*
Leslie Koehn is a top wedding photographer based in Wilmington and known for her elegant photos. She will make every moment of your wedding album-worthy with her discerning eye. 910-297-0886, lesliekoehn.com
Matt McGraw Photography
910-538-6201
Millie Holloman
888-316-3136
Sonya Ruth Photography
703-969-4743
TRANSPORTATION
Azalea Limousine
910-452-5888
Cape Fear Limo
910-679-4339
Event Shuttle Service
910-398-8333
Prestige Limousine
910-675-0500
The British Taxi
910-442-8294
Wilmington Trolley Company
910-763-4483
VIDEOGRAPHERS
Blueberry Creative
310-776-6935
Brick Street Cinema
910-762-8851
Life Stage Films
910-632-9559