A "Home" Front of Casual Coastal Elegance
01 Jul 2022
Sharing a love of design, a rotating inventory and meet-the-artist sessions with the Wilmington community
By Elizabeth Sugg » Photos by G. Frank Hart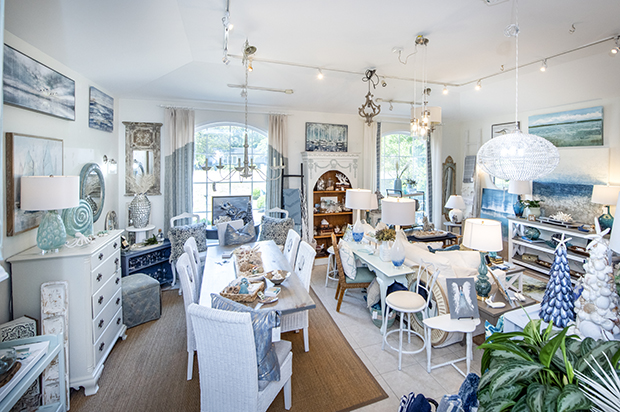 For 15 years Shop of Seagate has been a hub of friendly design wisdom from its business that's always been housed in a home. As owner Carol Patterson asserts, a house is the best way to show off the furnishings the versatile store can help homeowners source. From window treatments to furniture, lighting to mirrors, original artwork to home accessories, not to mention the jewelry and gifts on display on top of tables, bureaus and chests, the assortment is a one-stop-shop to easily furnish a house or to simply update elements in a room that may be showing some wear. And you are welcome to just come in and stay awhile as their longtime customers do.
Begun in 2007 by Jayne Keels, Shop of Seagate for its first 10 years was in a house a few blocks away before being torn down to make way for where Bradley Creek Station is now. Patterson and Keels knew each other through vestry at church, and Patterson had become a partner in 2015 when she retired as a manager from Brunswick Nuclear Plant. A storefront was never an option for the two partners' vision, so when a house a hop, skip and a jump from its original location became available, Patterson bought it. With Keels phasing out of the business and Patterson trying to lure her interior designer daughter Christian Harang and her family to move to Wilmington, Shop of Seagate entered a new phase in 2018.
Having an interior designer on staff has been a game-changing benefit to everyone who is a part of Shop of Seagate. That four-year degree means that Harang can consult in historic districts, an important distinction in the Wilmington area. It also means having the credentials to work on renovations that may require walls being moved, etc., which means taking on consultations that have more range and furnishing needs, a boon for this smartly run business.
"Christian has taken us from 'coastal chic' to more her style, what we are calling 'casual coastal elegance,' explains Patterson. Harang worked as an interior designer in Naples, Florida, before moving back to her coastal North Carolina roots, and both experiences inform her desire to help people find their style, a blended look with a mix of the old and the new. That blend is what creates the warmth Shop of Seagate wants to channel into the homes of their customers.
"Our biggest claim to fame is that we are very friendly. We encourage people to take things out and try them, and we are willing to give people design tips," says Patterson. She describes her inner interior decorator as having a "knack", something Kim Miller who works regularly at the store after a busy day as a preschool teacher, also shares.
Miller, who has a fashion merchandising background, describes the store's approach as "a little old-fashioned in a business sense," as she talks about customer service in general not being what it used to be. "I miss seeing it in the world, and I love that this place still has it."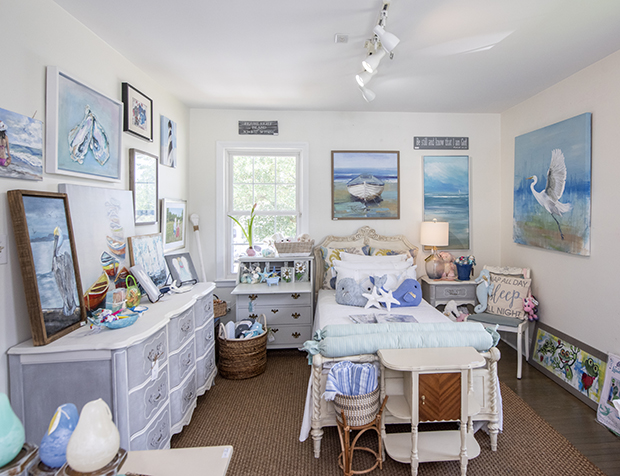 When walking through the attractive rooms full of furnishings and ideas, artwork is everywhere, much of it original from a pool of artists who Shop of Seagate can organize commissions with. Two such artists are Lisa Lightfoot and Michael Petronaci, both with distinctive painting styles yet capturing the colors and landscapes that beckon people to want to settle in the Lower Cape Fear. The turnaround for such custom artwork is surprisingly reasonable, sometimes just a matter of weeks.
Inspired by the natural beauty of coastal scenery and waterscapes, Petronaci captures such scenes with his paint brush. Lightfoot uses texture, soft hues of color, and layers of washes to create impressionist coastal vibes. Both artists have developed quite a following.
Need a farm table, bedside tables or a coffee table that fits your room's special dimensions? Shop of Seagate can assist in sourcing custom furniture through their artisans and carpenters, and this is an area where turnaround doesn't get hung up with supply chain issues because it's locally crafted. What does? Patterson says it's often fabrics for special-order sofas or chairs that are coming from oversees but their team tries to help their customers navigate around varying timetables.
"People want a plan," says Miller. "Some people can't visualize so they need help with paint colors, mirrors, tile, etc., and we are here to help them."
Seagate is the historic name of the area of Wilmington along Oleander Drive just past College Road as you drive to Wrightsville Beach. It once had a trolley line station that went to the beach, so named referring to the "gates to the sea." This nugget is just the type of information you might pick up on a visit to Shop of Seagate, a store with a personal touch so rare to discover. You will feel right at home.
Shop of Seagate is located at 5018 Oleander Drive, 910-791-6622. Visit their Facebook page for more information.