Cozy Elegance
29 Mar 2014
Reaching out to customers with a warm and friendly approach and offering unique home decor spells success for Monika and Rich Williams
By CECE NUNN Photos by KELLY STARBUCK and HORACE LONG, SALT STUDIO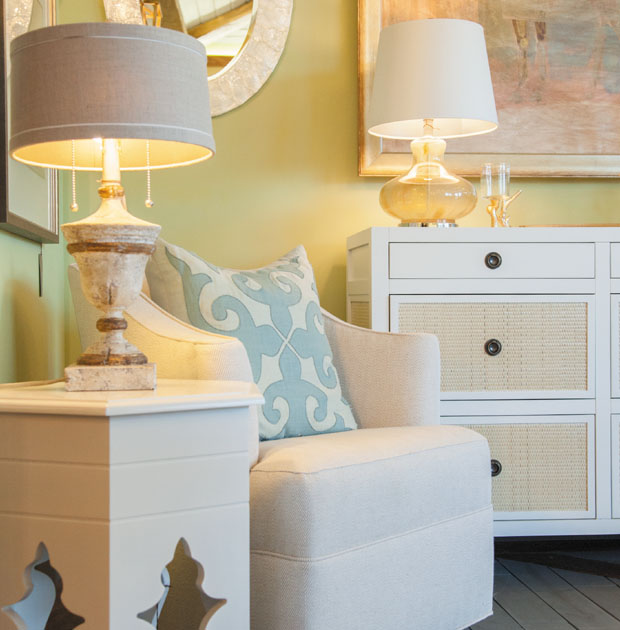 Inside Nest Fine Gifts and Interiors, it's easy to see how one might experience the urge to curl up on a couch in front of a fireplace and bask in an atmosphere of cozy elegance.
That's one of the feelings owner Monika Williams hopes she inspires in customers at the business she started in April 2011.
"Our home is very warm and welcoming and comforting, and I think that was really the philosophy she went in with," said Rich Williams, Monika's husband and business partner. "Rather than it being like a big warehouse or large building with pretty furniture in it, you have a warm setting with welcoming and warm people to help out."
Located in The Forum at 1125 Military Cutoff Road, the store is arranged in flowing sections that display the products available for people who are seeking gifts and/or design advice. A dining area showcases not only furniture, but everything else you would need to create the right setting for sitting down to a meal with family or guests, from glassware to napkin rings. In another section of the store tailored to exude a masculine feel, ruggedly beautiful leather luggage rests beside leather chairs near a shelf highlighting a variety of gifts for sale.
Including a men's section was a priority for Monika and Rich.
"I think men are always hard to buy for, and having one area of a place that people have in their minds when they have to get a man's gift seemed like a smart thing to do," Monika said, adding that they plan to expand the section in the future. "We try to have a little something for everybody."
Rich added, "We do a lot with wedding registries and because of that, there's a need for bridesmaids gifts as well as groomsmen's gifts. That's an important piece of it."
A full slate of design services is offered, with three interior designers employed to meet the customers' needs: Renee Russo-Smith, Susan Gsell and Lou Anne Liverman.
Russo-Smith has worked at Nest for a year and a half and has been a designer for 14 years.
"I love the quality of the furnishings and accessories. You don't see them all over the place," Russo-Smith said. "We have a lot of furniture stores here in Wilmington but you want to go someplace where you feel like you're getting something unique for your clients."
Russo-Smith said Monika does a good job of filling that need for furniture and gifts you can't get elsewhere.
"It changes all the time," Russo-Smith said of the store's offerings.
Monika said she and Rich travel to four markets a year, two in High Point and two in Atlanta, to find the furniture, accessories, accent pieces, gifts and other items they sell. "I also listen to what people are wanting and try to do the best I can to get the things that people are asking for."
The store's layout is also a plus for Russo-Smith as she works with clients. "It helps to visualize the pieces in a residential environment," she said.
One trend Russo-Smith has noted this year in the world of interior design is the use of large, bold patterns in upholstery or pillows, especially for accent pieces.
And a lot of customers lately, Monika said, have been looking for ways to refresh their interior designs.
"People who have a very traditional home for the past however many years are deciding that they want to update it just a little bit, and maybe replace some of the darker, very traditional pieces with some distressed furniture, lighter colors, lighter woods," Monika said. "Our designers are very good at always trying to work with what they've got to the best of their ability."
Along those lines, the designers can help keep the process from becoming overwhelming, Rich said.
"You don't have to come in and throw everything away," he said. "You can gradually ease into a new look by blending pieces that you have currently with newer pieces."
Also available is a line of paint, Amy Howard at Home, that customers can use to change a piece they currently have into something new or different. The company's one-step paints allow customers to give a fresh look to a piece of furniture, such as a stained wood piece, without having to strip or sand off the old layers. The same is the case with the Amy Howard at Home furniture lacquer paints. "The lacquers can be used on virtually any type of surface," Rich said. For example, the bright, bold color of a lacquer paint can turn an old brass lamp into a piece more in keeping with the boldness required by recent design trends.
In addition to furniture, lighting, cowhide rugs, candles and other home products, Nest sells fragrances, jewelry, purses and much more, with many other items listed on the store's website. The business employs six people ― a full-time store manager and two part-time employees in addition to its three interior designers. Monika and Rich spend a lot of time at the store, but with the help of their team, they are able to balance running a business with a busy family life. The Williams have four teenaged daughters, two in middle school and two in high school.
"Starting a business is a very challenging task and so that's probably been the only way we can do it with four kids – working together and having a great staff of people we can depend on," Rich said.
A strong staff combined with an emphasis on providing a comfortable, non-intimidating atmosphere has helped Nest keep regular customers as it attracts new ones.
"We work with a lot of really great customers and that certainly helps make it easier for us as business owners," Rich said. 910-256-6378, nestfinegifts.com