High-quality consignments from Wilmington's finest homes are yours for a steal at Home Again
By JENNIFER GLATT » Photos by ERIN WHITTLE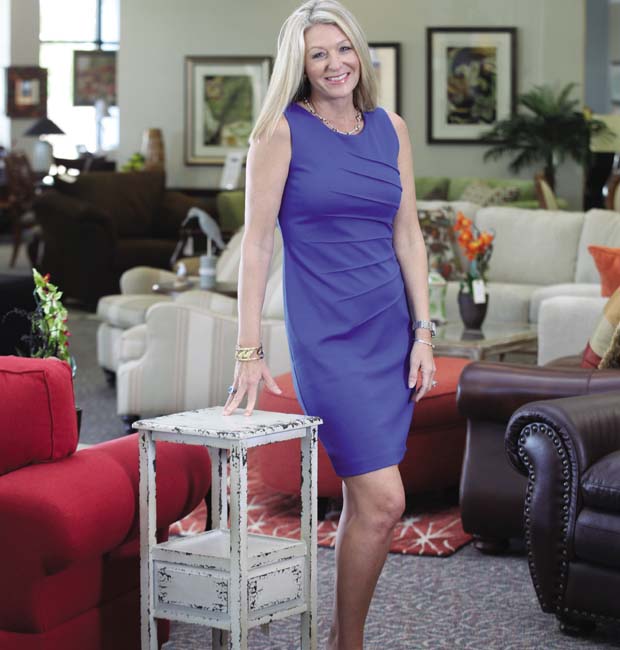 FROM HUTCHES TO HEADBOARDS, settees to slip-covered sofas, Home Again Fine Consignments is a veritable treasure trove of bargains. But you've got to move quickly—things don't stick around long here.
Furniture industry veteran Jeannie Bethel, who has lived in Wilmington for 16 years, was a former executive for national furniture brands that sold furniture to retailers. She says she always thought there was a need for an upscale consignment store here—she just didn't realize that it would be herself filling that need. Upon visiting a similar store in Massachusetts, "the idea just clicked with me," she shares. Her 20 years of wholesale experience certainly serve her well, now that she owns and runs her own store, which she affirms has proven to be a success from early on.
Home Again was first opened in September 2009 in Wrightsville Beach's Galleria shopping center, but recently moved to The Forum shops when the Galleria closed in April 2012. It was a fortuitous move, granting Bethel almost 3,000 square-feet more of showroom space and access to the busy Military Cutoff thoroughfare. The furnishings are "casually elegant and carefully chosen to work in fine coastal homes."
Inside the 7,500-square-foot space are sectionals and ottomans, accent tables, bedroom sets, curio cabinets, coffee tables, desks, prints, rugs, lamps ― the list goes on. "We are very particular about what we accept on consignment," Bethel says. That means current furniture and décor, in "like new" condition, manufactured or sold at furniture or home décor stores within the last five years. That also means no antiques or collectibles or any furniture that requires refinishing.
However, "with my industry connections, I am able to offer some new items, High Point Market samples, closeouts, overstocks and liquidations," she explains. Bethel also offers items from estate sales, carefully curated to meet her standards. In addition to furniture and décor items, you'll find Lumina Gem within Home Again. She partnered with Brad Bass, a GIA graduate gemologist, creating "essentially the same concept as Home Again, except Lumina Gem offers a mix of new and consignment fine jewelry," Bethel explains. Lumina Gem also offers jewelry repairs, appraisals, custom designs and gold buying.
Displayed in attractive vignettes throughout the space to show what pieces might look like in a home, Bethel says many people remark that they can't tell the difference between the new items and the consigned items, and that is by careful design. "In the last three years, the consignment industry has exploded," she notes. With the economic challenges facing us today, she says that most people are more careful with their money, and are looking for ways to stretch their dollar. "We offer upscale items at good prices," she states simply.
Bethel credits social media as a "tremendous" help to growing her business, declaring it a real key to success. Highlighting notable new arrivals on Home Again's Facebook page is a surefire way to sell pieces often the very same day. (It's fun to browse the posts even if all you're looking for is inspiration.) Facebook has proven to be an excellent forum to encourage conversation, answer potential buyers' questions, and in the case of one recent Facebook follower, plan travel. "This is definitely my kind of place; I plan to visit soon—or as soon as my husband leaves town for at least a day."
Bethel also maintains a website and sends out a weekly e-blast to members of the "Just-In Club", with a slideshow of new arrivals and store happenings. Once a year she runs a "Show Us Your Stuff" contest, where customers send in photos of their new-to-them items displayed in their home. Winners receive a gift certificate to Home Again.
If you're looking to freshen up your home, you'll be pleased to know that Home Again's prices are typically 30-60% off retail prices. Consignees earn 60 percent of the sale price for items Bethel and her staff accept, with a consignment period of 90 days—and often less.
"We're like a modern day Trading Post," Bethel says with a laugh, remarking that delivery trucks are constantly coming and going. "I like the element of the unexpected" with this business, she says. "We never know from day to day what will walk through the door. It's never the same day twice." 910-679-4302, homeagainwilmington.com. ■