Where Every Day is a New Adventure
15 May 2023
Brightmore of Wilmington has it all, and then some, for seniors
By Joe Jancsurak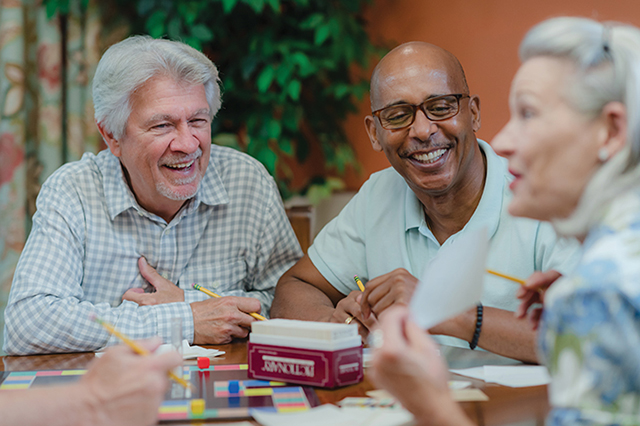 Some seniors approach their retirement as an endless coffee break, void of meaningful pursuits.
Not so for the 135 residents of Brightmore of Wilmington, a complete retirement community for individuals 65 and older. On its 3-acre campus are 140 independent-living apartments; 99 assisted-living apartments; and 99 memory-care suites. A complete renovation of the living spaces and common areas, and an enthusiastic staff, provide a welcoming "small-town" vibe.
"Visitors often say, 'this feels like home,'" says Executive Director Lisa Sherrill. "We strive to provide a well-rounded quality of life for our residents."
Managed by Liberty Senior Living, a division of Liberty Healthcare Management (an almost 150-year-old family-owned healthcare business), Brightmore provides residents myriad amenities that include a saltwater pool, fitness center, three cardio rooms, billiards room, game room, two libraries, a chapel and a full-service dining room serving lunch and dinner. The outdoor courtyard includes a fire pit, bocce, putting green, shuffleboard, and a walking trail. And for those who enjoy friendly competition, bocce, croquet, putting, and shuffleboard tournaments are held regularly.
"Further, Brightmore's body-health-mind approach is seen in its INSPIRE (Inclusive, Nutritional, Spiritual, Physical, Intellectual, Recreational, Engaging) program, which focuses on wellness and life-enrichment opportunities," says Sherrill.
INSPIRE provides individually tailored fitness programs for residents, with Wellness Director Madeline Woodward, an eight-year veteran, overseeing the assessments. A popular component in the wellness program is Ageless Grace, a class that combines physical exercise with brain stimulation. Other wellness activities include arthritis aquatics, water aerobics, aquatic tai chi, land-based tai chi, balance, yoga, and strength training.
Then there's the Life Enrichment program, which includes art classes, book clubs, movies, men's and women's groups, outside speakers including local historians, mixers, and organized game groups featuring bingo, bridge, Canasta, mahjong, and Scrabble.
And because Brightmore sponsors several cultural events in Wilmington, residents are afforded opportunities to enjoy a plethora of local happenings, including performances at Thalian Hall and Opera House Theatre, the North Carolina Jazz Festival, Wilmington Jewish Film Festival, and Wilmington Symphony. Other outings include day trips to Southport, Myrtle Beach, and Raleigh, as well as local shopping and dining excursions.
Sherrill adds that several residents serve as front-desk volunteers at the Novant Health New Hanover Regional Medical Center, volunteer ushers at The Wilson Center, and by knitting baby caps, shawls, and blankets for the hospital, hospice programs, and local churches.
The Brightmore of Wilmington campus not only offers independent living residences, but The Kempton and The Commons at Brightmore also offer residences for assisted living and memory care. Each level of care offers an abundance of amenities and programming, updated facilities, and a caring and tenured staff to support residents. For these reasons, it's not surprising that The Kempton and The Commons at Brightmore regularly receive four-star ratings from the North Carolina Department of Health and Human Services, Division of Health Services Regulation for being a preferred assisted living community in Wilmington.
"We want your readers to know," Sherrill says, "that here at Brightmore, we really do care about our residents, and we want them to thrive here for many years to come."
Brightmore of Wilmington
910-507-7384
brightmoreofwilmington.com